Past
The Peacock Inn dates back to the 1700s, when it was built on the corner of Main Street and Railroad Avenue, now Nassau Street and University Place, respectively. Jonathan Deare, a member of the Continental Congress, purchased the property from Thomas Stockton in 1779. According to "Hageman's Princeton", Deare offered members of the Continental Congress rooms with fireplaces, breakfast, tea, and dinner.
The Peacock Inn was moved to its present location on Bayard Lane in 1875, when it was purchased by the Princeton Hotel Company. Mr. Libbey, President of the Princeton Hotel Company, was a very prominent figure in Princeton. Not only was he a Princeton graduate and professor, he was also the person who established orange and black as the University colors. Mr. Libbey was one of the first individuals to own a telephone in the area as well.
The Peacock Inn was opened in 1911 by Joseph and Helen O'Connor, who purchased the property and named it after an inn in Midland England. The peacock, a symbol of royalty, good food, and good luck, was adopted by the couple as the emblem for the hotel. The Inn has been in operation ever since. After opening under its new name, the property became an interesting part of the area's history. When Albert Einstein moved to Princeton, he stayed at The Peacock Inn for 10 days while construction of his house was being finished. It is believed that the basement area of The Peacock Inn, also known as "Peacock Alley", was used as a Prohibition-era speakeasy. According to Mrs. Evatt, who purchased The Peacock Inn in 1954, the entire Princeton football team came to the Inn one day and happened to be standing outside on the porch. Due to the weight of the team, the porch collapsed, taking the football team down with it. A quick-thinking photographer snapped a shot of the incident and later that year, the photograph won a prize and was featured in Sports Illustrated Magazine.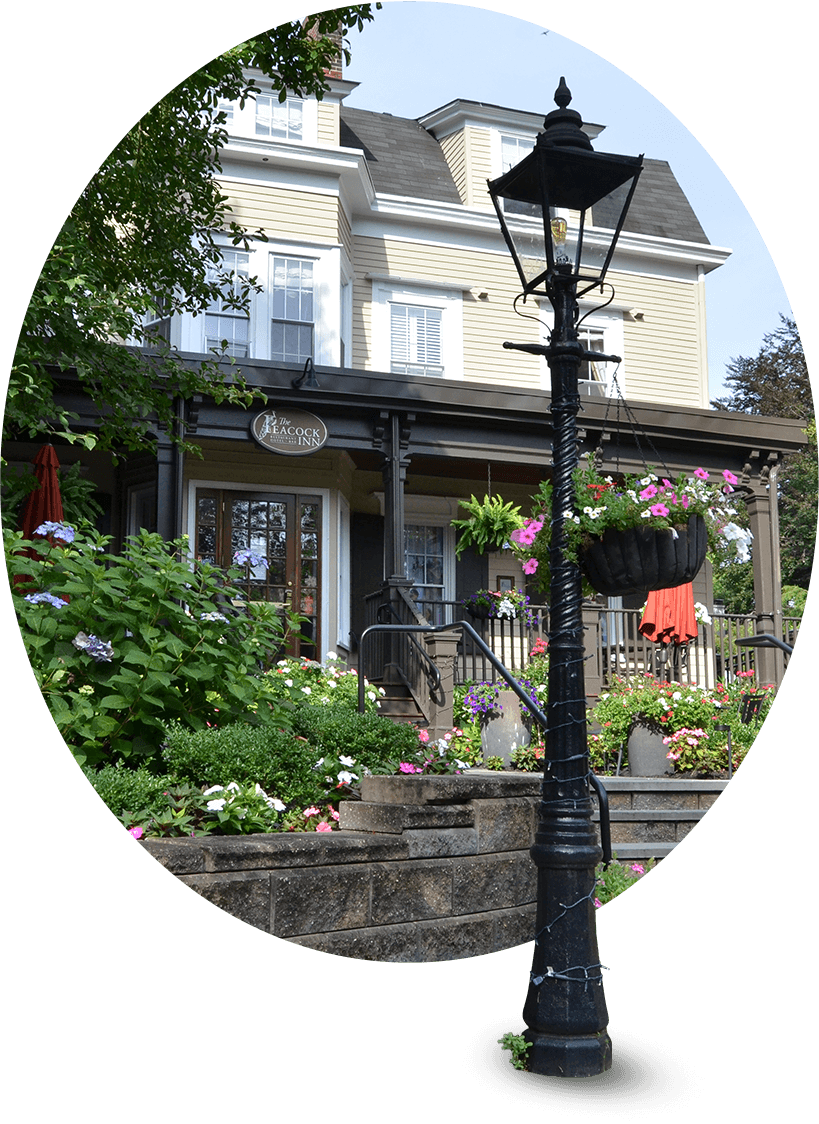 Present Day
In 2006, The Peacock Inn was purchased by Barry and Elaine Sussman and underwent a 3-year full renovation. The Peacock Inn had a grand reopening in 2010 and played host to professors and political dignitaries visiting Princeton University as well as CEOs, diplomats, actors, entertainers, and even a Broadway producer. Sadly, the Peacock Inn Restaurant closed its doors in January 2018.
In May 2018 the Peacock Inn was purchased by Genesis Hospitality and has since experienced a renaissance under new ownership beginning with the reopening of its upscale fine dining restaurant. With renovated rooms and a reimagined restaurant, this award winning boutique hotel and fine dining restaurant is once again proudly shaking its tail feathers.
Management Team
Shaun joined The Peacock Inn family in 2018. He began working as a Front Desk Agent at The Peacock Inn and has since held various management positions of increasing responsibility. Shaun brought over 17 years of management experience in the Hospitality Industry to the Peacock Inn Team. Shaun earned an Associates Degree in Liberal Arts from Rowan College at Burlington County (formerly Burlington County college) and a certificate in Direction from the New York Film Academy. Shaun is an avid enthusiast of professional sports and enjoys spending time with his two young sons.

Farmstead-inspired, ingredient-centric cooking is the name of the game for Chef Alex Van Dyke and the Peacock Inn. Van Dyke transforms fresh local ingredients into refined yet accessible plays on regional cuisine.

A graduate of Johnson and Wales University's College of Culinary Arts, Chef Alex honed his French technique at the then-three Michelin star restaurant Daniel in Manhattan. He credits his training in French cooking as the foundation from which he explored other culinary avenues. Before returning to his home in Bucks County to bring his food to his beloved family and community, he worked in Nashville, TN, at Chef Sean Brock's restaurant Husk. Brock, a multiple times James Beard Award winner, instilled in Alex a commitment to American fare.

Chef Alex believes deeply in sourcing and treating ingredients with respect. He is quick to credit the farmers who go to great lengths to cultivate produce and humanely raise animals with the utmost integrity. If you ask him, he'll say his care and creativity in transforming ingredients are secondary to the big picture story: the people's dedication to bringing back organic farming methods.

Our food at Perch pays homage to the idea of terroir- that each product grown and raised in our particular corner of New Jersey carries its own taste. Our rotating dishes adapt to the changing seasons of the local microclimate as we work closely with our friends and purveyors to bring you the best in peak season. Chef Alex continues to draw inspiration from his training in French technique, his experience with Southern food, his Jewish upbringing, and his summers working on Martha's Vineyard, all in the service of bringing you a singular dining experience.

Mike's hospitality career began as a host at the Chart House in Philadelphia and extended to running the fine dining food and beverage operations at the Valley Forge Casino. Mike enjoys exploring all the ways hospitality can be executed to the highest standard and is always putting the guest's experience first. He believes that restaurants can be a place for introducing guests to new things, especially in the world of wine. Mike's initiation to wine was through the world of Bordeaux, but he is particularly passionate about champagne. Mike has also completed the level one certification through the Court of Master Sommeliers. Outside of working at the Peacock Inn, Mike is an avid runner and sports fan. Mike can often be found on a daily run near the canal, followed by coffee at his favorite spot in Princeton, Sakrid Coffee.